Atria, a leading international Finnish food company, is pushing the borders of innovation with the inclusion of a series of Omron products in their facility. Atria was looking for an automated solution for its material handling section to increase production rates and subsequently improve safety.
Where customization enables efficiency positive change is made.
The solution was found in a single, compact custom-made machine. Unlike other bidders, Omron's ability to produce a complete solution using one platform, as opposed to multiple solutions on different platforms, won over the decision makers at Atria. The solution consisted of four Delta Robot cells, with simplified HMI, integrated SRS crate-conveyance control and one vision system for robot coordinates and quality inspection 1.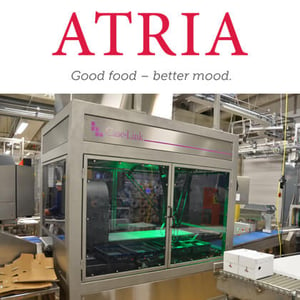 Overall, the application was successful in increasing packaging speed at the facility by over 400%, reducing the cost of production, and improving product quality 1.
Atria is one of the leading food companies in the Nordic countries, Russia and the Baltic region with over 110 years in the food and beverage industry 2. Their acceptance of automation and robotics in the workforce is notable as a result of their status as an influential stake holder in the food and beverage industry.
Giving us safety, without complexity.
It would point to the fact that the future is in robotics. Within Canada some would characterize the widespread shift to automation within industrial facilities as a mark of a new industrial revolution in which higher demand for quality products and more stringent safety laws are increasingly causing industry officials to turn to robotics.
While the solution Atria was looking for solved their main problem of space in an otherwise cramped facility it simultaneously addressed a problem in the food industry that has been plaguing human health for centuries.
Where human cleanliness cannot be monitored, autonomous machines can be. Meaning our ability to control and reduce the risk of food borne illness significantly increases. Not only are facilities being made increasingly safer by our ability to automate the process of production, but from our ability to ensure that food is exposed to the elements for a shorter period of time.
The inclusion of robotics in food facilities has proved a 9 times reduction in service time meaning the foods we purchase are exposed and transported through the entire packaging and processing portion of production at a faster rate 3. Resulting in lower exposure time, meaning our food is spending more time in a controlled environment devoid of the allergens and illnesses that can cause us harm.
The next 20 years point to a change in industrial facilities in which the stringent laws we control our food processes by is prompting our industrial facilities to turn to more innovative solutions. At Proax Technologies our close relationship with Omron can allow us to provide solutions to industrial problems just like Atria's.
Let's get inspired by our European neighbors innovation. Contact a local representative today to see what changes can be made to your facility! Check out the Delta robot in a full solution below.
Related Products
1. At the heart of Food & Beverage automation. Retrieved from https://industrial.omron.eu/en/solutions/food-beverage-industry
2. Atria Group. Retrieved from https://www.atria.fi/en/group/
3. Food & beverage lines benefit from AI at the edge. (n.d.). Retrieved from http://www.dpaonthenet.net/article/162177/Food-beverage-lines-benefit-from-AI-at-the-edge.aspx