Innovation… seems simple, right? Some might say it's about new ideas. Others think it's related to a solution and to adding value for customers. Well, it might just be all of those answers! Innovation is a vast concept, however over the week of February 19th the sales and technical team of Proax Technologies got a little bit closer to understanding what innovation means to our organization.
With the "Let's Innovate" thematic in mind, we held various activities and meetings to foster a collaborative relationship between our teams from all over the country. Our technical team met to exchange information and take inventory of the skills and expertise available amongst our group. They worked to identify opportunities to work together that would provide value for our customers, vendors and overall staff. The result of this brainstorm, in which they identified the "Proax Difference", was presented to the group afterwards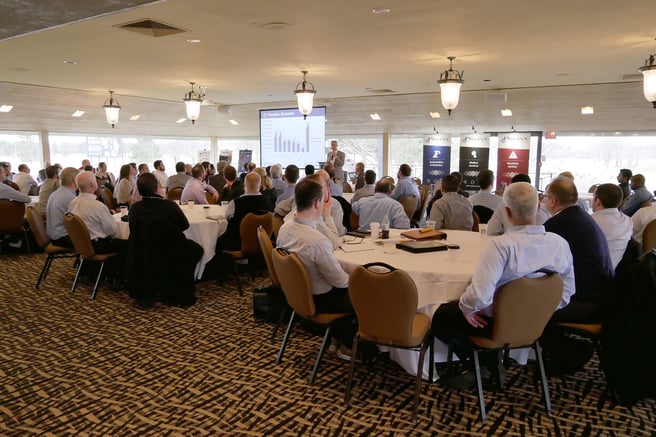 On Wednesday night, key customers joined us along with our core vendors for an interactive night. John Kerr of Kerrwill Publishing shared an interesting outlook on the world and opportunities of the automation and control market. As for Dr. Darin Eich, his interactive workshop led us to think about innovation through playful activities. Do you think you could ever build a company concept, logo and mission in 30 minutes or less? We did! In fact, we created about 10 companies using Darin's innovative and creative method of thinking. It's impressive to see what can emerge from our minds when we take down the barriers and let our creative mind guide the way!
On the following day, the team then met at our newly renovated head office in Oakville to receive reports from different key departments at Proax Technologies such as IT, Operations, Accounting and Marketing. Opportunities were also reviewed with Automation West Technologies. The group worked on a number of sales strategies and market opportunities, and we closed off the meeting with a team challenge to create the best first introduction (elevator pitch). Lots of energy and passion shined through that challenge!
The team left Oakville filled with powerful insights and the energy to take on the New Year. Now, let's innovate!