In a world where the population is growing at a rate of approximately 360000 births a day it would seem impossible that the term "labour shortage" could be used in the industrial world1. However, this is not the case. In Canada, small and mid-sized companies are experiencing widespread labour shortages.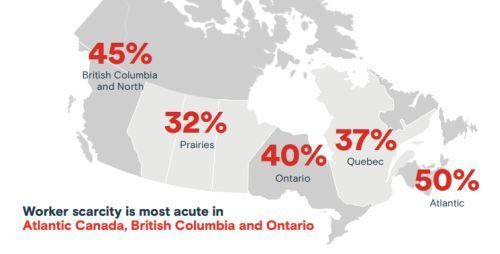 What enables growth within a company?
In response to the labour shortages experienced by small to mid-sized companies in Canada, Pierre Cleroux, the chief economist for the Business Development Bank of Canada stated, "They represent about 50 percent of the Canadian economy making them very important"2. He's right, the ability of the Canadian economy to maintain its growth is contingent on the continued ability of these companies to grow their resources to serve the wider public. When Canadian companies are not succeeding it can have a very detrimental effect on the population's well-being.
The Business Development Center recently surveyed 1208 people from small to medium sized businesses with at least $500000 in annual sales2. The findings showed that at least 39 percent of them were experiencing a labour shortage and having difficulty finding prospective people to hire.
Is the labour shortage in Canada temporary?
While these numbers are an indicator of a relatively strong economy, in reality an inability to staff ones company threatens a business's ability to succeed in the industry they work in. The Business Development Bank of Canada has also stressed the fact that the current labour shortage Canadians are experiencing will not be temporary3.
In reality, the young workers entering the workforce are highly skilled and do not make up a large enough group to support those working that are at the point of retirement.
Businesses are now at a loss as they look to maintain their growth, but face the unsuspected problem of resource shortage in the form of labour. From an industrial automation point of view the solution to this problem can easily be found in robotics.
Most impacted industries and company types
All industries and companies are affected by the labour shortage phenomenon we are experiencing in Canada. On the upside, there is an solution for these companies found in the implementation of robotics and automation. Here is a list of some of the job areas that are most affected by labour shortages and would easily benefit from the implementation of robotics:

Machine Tending / Machine Operators, i.e., CNC Machines (Computer Numerical Control), Lathe, etc.

Metal Sheet Folding / Presses

Assembly / Screwdriving

Pick and Place, i.e., production lines with employees placing manually some products into packaging, trays or recipients.

Quality Testing / Inspection

Finishing

Insertion

Dispensing
Don't be turned off by the high start-up costs of investing in Robots!
While most businesses have been turned off by the upfront costs of implementing robotics in their production facilities, the payoff over the long run is indisputable. The use of robotics to fill in the job role of repetitive tasks is proven to eliminate errors, provide a flexible workforce, and increase production speeds4.
Over time, this will allow businesses to recoup the expense of implementing a robotic solution and invest their resources in new job positions that are not so systematic. Instead of having a labour force dedicated to picking, or packaging you can transfer your employees into a more fulfilling job in sales, marketing or technical support.
Where labour shortage seems to be a long term problem an industrial distributor can provide a robotic solution with a full proof long term solution. Robots ensure companies are not restricted by the current labour shortage Canada is facing while providing the opportunity to reinvestment in your company in the form of labor promotion.
Don't allow the upfront cost of robotics scare you away from seeking out a viable solution to the issue of labour shortage! There are a wide range of options for every production case. Allow your trusted industrial distributor to introduce robotics to your facility.
Related Products
Bibliography
1 "Birth & Death Rates." Ecology Global Network. http://www.ecology.com/birth-death-rates/.
2 Tencer, Daniel. "Canada Faces Decade-Long Labour Shortage: Economist." HuffPost Canada. September 05, 2018. https://www.huffingtonpost.ca/2018/09/05/labour-shortage-canada_a_23517802/.
3 Tencer, Daniel. "Canada Has Never Had So Many Unfilled Jobs; Here's Where They Are." HuffPost Canada. August 10, 2018. https://www.huffingtonpost.ca/2018/08/09/job-vacancies-canada_a_23499454/.
4 ProV International Inc. "Top-5 Benefits of Robotics Process Automation (RPA) Adoption for Your Company." ProV International - Global Consulting Firm. https://www.provintl.com/blog/top-5-benefits-of-robotics-process-automation-rpa-software.